Best Ways to Display a Flag in a Home
When you bring home a flag, you don't have to keep it outside. There are several different ways to display a flag inside your home while adding to your overall decor. These include:
As a Room Centerpiece
Where better to keep an indoor flag than in the center of your room? Find an accent wall or another large stretch of bare wall, and you'll have the perfect place to hang your Elmer's Flag and Banner accessory. A centerpiece flag tends to be as large or larger than an outdoor flag, so make sure you have enough space for one to hang elegantly in your home.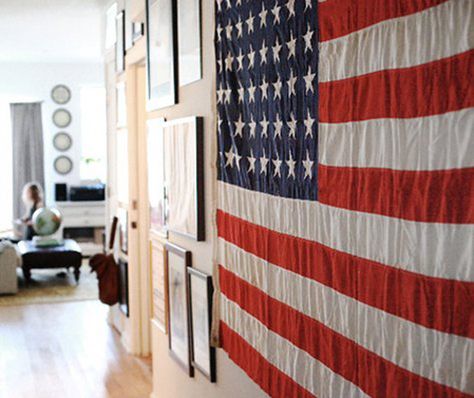 As a Banner
If you'd prefer an array of smaller flags, you can always hang several up in a banner-like fashion. There are two ways you can do this. First, you can buy several flags as a chain and hang them at appropriate intervals throughout different parts of your home. These banners look best over the fireplace, above a stairwell, or interwoven through a railing.
Alternatively, you can take full-size flags and twist them so that they look like garlands. That requires a little DIY on your part, but it can lend a sense of elegance to any staircase or railing.
Hanging By or Above the Fireplace
Flags of all shapes and sizes look good above your fireplace. You can illuminate a hanging flag with the addition of fairy lights or let the flag stand on its own. You'll need to dust a fireplace flag regularly and keep it high enough to avoid any debris that may escape from your flue. With careful maintenance, a fireplace flag can become the beating heart of your home.
Note that you don't have to fix your flag to brick or cement to keep it near your fireplace. If you have an interior stand, you can set your flag up beside your fireplace tools, bringing some extra life to your mantel as you do.
In a Frame
If you want to preserve your flag for as long as possible, you can always set it in a frame. Here, you have the option to display your flag wherever you like without worrying about environmental threats or even something as small as wrinkles. Larger flags may be more challenging to frame, but they're also arresting to look at once you step inside.
Find the Flag for You With Elmer's Flags
Brightening up your home's interior doesn't have to be a challenge. If you're looking for a flag to keep inside your home or to display on your lawn, let Elmer's Flag and Banner help you out. Our team can fit you with custom flags that celebrate all of the unique aspects of your life.